first act : echange of greetings
Première action : échange de voeux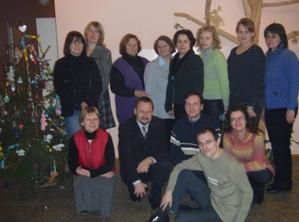 We send warm wishes for the teachers of your school and personaly for you .

First row (sqating down) Art teacher Elena Barauskiene, biology teacher (major of our region) Sigutis Obelevicius, history teacher Bronius Pipiras, Me - informatic technologies teacher Erikas Dobrovolskis, primary level teacher Alyte Obeleviciene.
Second row (standing) Vilmante Kalibatiene The directress of Traupis school, socialteacher Jurgita Verikiene, geography teacher Janina Savickiene, French teacher Palma Garneliene, vice directress Janina Palikeviciene, music and religion teacher Ingrida Spundzeviciene, preprimary level teacher Grazina Baravikiene, primary level teacher Daiva Dailideniene.